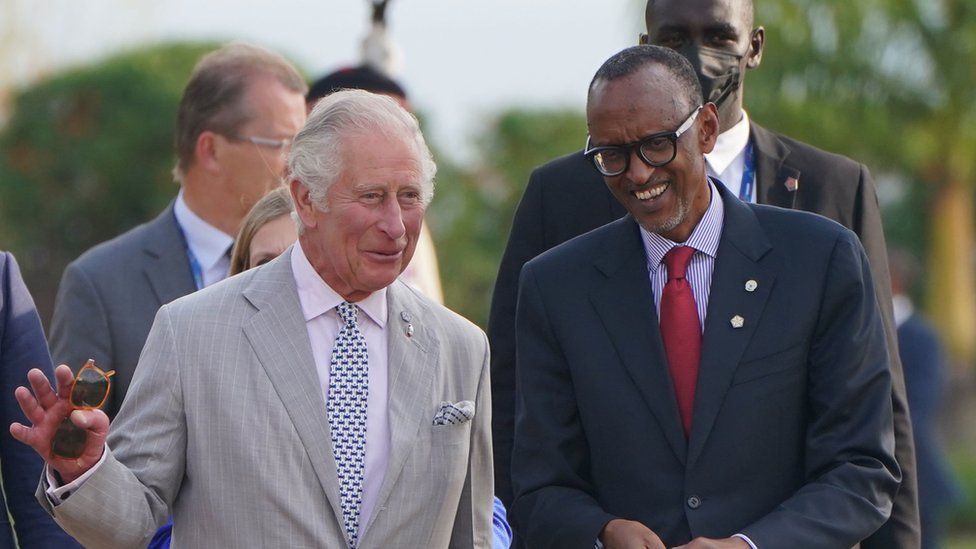 The Prince of Wales is expected to tell Commonwealth leaders their diversity is a "strength" at the opening of a global summit in Rwanda.
He will tell leaders their differences are a positive they can use to "speak up for the values which bind us".
The prince will also meet Boris Johnson later following reports he criticised the UK's Rwanda asylum seeker plan.
The heir to the throne is reported to have described the plan as "appalling", but a Clarence House spokesperson said the "prince is politically neutral".
Downing Street has said it is "unlikely" the UK's Rwanda asylum policy will come up when the pair meet.
Mr Johnson has said he would defend the scheme if it was raised, but his spokesperson said it would not be at the forefront of his mind.
Prince Charles will be making an opening address at the summit on Friday, where Commonwealth leaders will discuss trade, health and the climate.
He is expected to say: "In the diversity of the 2.6 billion people on whose behalf you speak, comes great strength, which you can use, for instance, to speak up for the values which bind us, to invest in a rapid transition to a sustainable future and to create opportunities for our young people."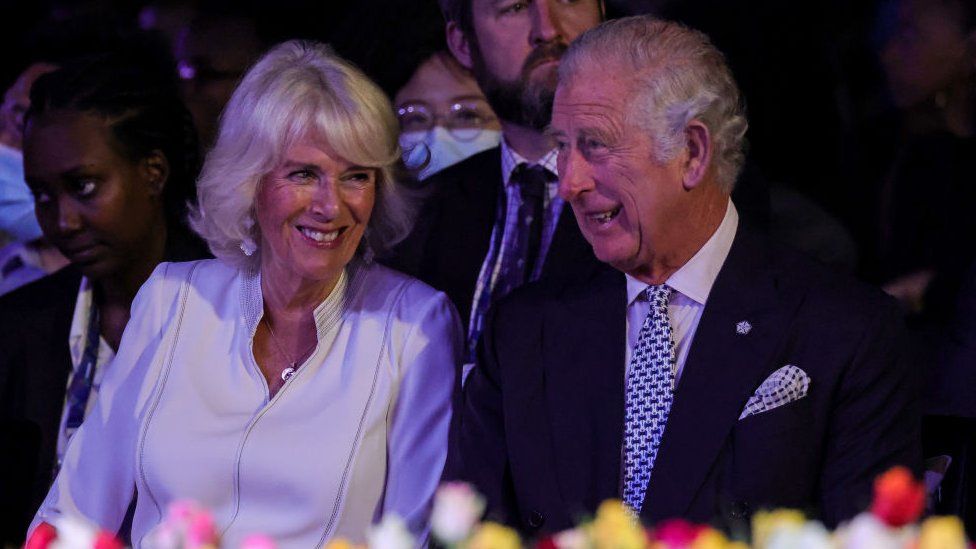 Before the summit, Prince Charles and the Duchess of Cornwall will meet the Rwandan president Paul Kagame and First Lady Jeanette Kagame, Commonwealth Secretary General Baroness Scotland and Mr Johnson and his wife.
Following the opening ceremony, leaders and representatives from most member countries will hold two days of talks behind closed doors.
One topic to be discussed will be the applications by former French colonies Togo and Gabon to join the Commonwealth.
Some 54 countries are members of the Commonwealth, which the Queen is the head of.
British Prime Minister Boris Johnson's Conservatives lost the parliamentary seat of Wakefield in northern England on Friday, with voters dealing a blow to the party after months of scandals and a growing cost of living crisis.
Opposition Labour Party candidate Simon Lightwood won the Wakefield by-election by a majority of 4,925 votes, winning back a seat that Labour had lost in 2019 for the first time in 90 years.
(Reporting by Alistair Smout; Editing by Christopher Cushing)
Fifteen Republicans voted late Thursday to pass gun safety legislation, the first of its kind in three decades.
Ten Republicans were part of initial negotiations over the bill in May, following mass shootings in Buffalo, New York and Uvalde, Texas that put pressure on lawmakers to come together on legislation. 
The bill, known as the Bipartisan Safer Communities Act, includes billions of dollars in funding for state mental health services and school security. It also targets the "boyfriend loophole" that allows dating partners to own guns after being convicted of domestic abuse, unlike federal law against spouses. The bill also provides grants to states to adopt "red flag" laws, which allow courts to remove firearms from those deemed a threat to themselves or others. 
Sen. Minority Leader Mitch McConnell, R-Ky., expressed his tentative support of the measure last week and voted in favor of the bill on Thursday.
Only two of the 15 Senate Republicans who voted in to support are facing re-election this year: Lisa Murkowski of Alaska and Todd Young of Indiana. 
Four of the senators are set to leave office this year: Senators Rob Portman of Ohio, Roy Blunt of Missouri, Richard M. Burr of North Carolina and Pat Toomey of Pennsylvania.
The rest of the Republican senators aren't up for re-election until 2026, with the exception of Mitt Romney of Utah, whose election is in 2024.
The bill now moves to the House; if it passes, it will then be sent to President Joe Biden for signature. Biden has already expressed his support for the bill. 
White House:Biden wants action on guns even if he doesn't get everything he asked for
A group of teenage boys was live-streaming their joyride in a stolen car moments before they the vehicle crashed, killing one of them and injuring three others, Texas police said.
The boys, who are between the ages of 13 and 15, stole a 2018 Audi S5 Coupe from a home in Abilene in the early morning on Wednesday, according to the Abilene Police Department.
At 3:40 a.m., police received a 911 call from a "concerned parent" who said their son and others were live-streaming on social media from inside of the stolen car and believed to be heading towards Dallas. By 3:50, the car owner reported the vehicle as stolen.
Less than 20 minutes later, the Callahan County Sheriff's Department received a call for a theft at a convenience store in Clyde at 3:57 a.m., which cops believe was committed by the teenagers.
Police spotted the car at 4:07 a.m. in a parking lot of a hotel near Highway 351 and Interstate 20.
The Audi collided with an unoccupied police cruiser at the scene, prompting an officer to flash his lights and try to stop the teens. The car sped away from the hotel parking lot, and police said they "did not actively" pursue the vehicle.
Just moments later at 4:09, the Audi, traveling at a high rate of speed, crashed into a telephone pole and caught on fire.
A 13-year-old passenger was pronounced dead at a hospital from his injuries, cops said.
The 13-year-old driver, a 14-year-old passenger and a 15-year-old passenger were also injured and taken to local hospitals for treatment.
The 14-year-old suffered burns on his body and was taken to a hospital in Lubbock. The 15-year-old suffered non-life-threatening injuries and was treated in Hendrick.