Former Japanese leader Shinzo Abe was fighting for his life on Friday after being shot at a campaign event.
The attack in the western city of Nara left Abe in critical condition, Prime Minister Fumio Kishida said, and shocked a country where gun violence is virtually nonexistent and laws on ownership are strict.
Labour could table a vote of no confidence in Boris Johnson's Government in the House of Commons "as early as next week" if the Tories do not oust the Prime Minister from No 10 now, Angela Rayner has said. 
The deputy Labour leader said Mr Johnson "can't stay another minute in Downing Street" and the Conservative Party should choose a successor "pretty quickly or get some interim leader in".
"If they don't do that we are very clear that we will put a motion of no confidence forward before the summer recess [July 21] to ensure that that exchange happens," she said.
Pushed on when a vote of no confidence could be held, Ms Rayner told Sky News: "It could be as early as next week, yeah, because we haven't got long left before the summer recess."
Parliamentary convention dictates that a government that cannot command the confidence of a majority of MPs in the Commons should either resign or go to the country in a general election. 
Mr Johnson yesterday announced he is resigning as Tory leader but will remain in No 10 until his successor is in place. The Tory leadership contest could take months, raising the prospect of the PM staying in power until September or October.  
​​Follow the latest updates below.
Bout provided tons of guns and ammunition to some of the most vicious warlords in the world and empowered them to carry out unspeakable atrocities. He is responsible for enabling murderous groups to kidnap and train thousands of child soldiers; use rape as a systematic method of terror and control; torture through the mass amputations of arms, legs, ears and lips; slaughter civilians, and help the Taliban take power in Afghanistan. Griner may have been carrying vape cartridges that were banned in Russia but not in much of the world.
There is no parity in the negotiations or symmetry in the lives or actions of the two potential protagonists. But President Joe Biden should take the deal.
I covered the wars and victims of Bout's weapons trade in Sierra Leone, Liberia and Democratic Republic of Congo as a correspondent for the Washington Post. The Nicolas Cage movie "Lord of War" was loosely based on Bout, and I co-wrote with Stephen Braun a non-fiction account of the savagery he enabled. There are no words to describe the human toll of Bout's activities on thousands of people, from the armless child amputees in refugee camps to the scorched rural hamlets burned to the ground by marauding children traumatized into killing their own families.
Bout ran an aviation and weapons empire from the fall of the Soviet Union until his arrest in Thailand in 2008. He built his business by ferrying lethal weapons by the ton to buyers in exchange for cash, diamonds and timber. He was acting, his brother said, as merely a taxi service — a chauffeur with no responsibility to know the contents of the passenger's baggage he was carrying. But he knew exactly what he was doing.
Abe, Japan's longest-serving prime minister, had just begun a speech near a train station when gunfire was heard around 11:30 a.m. local time (10:30 p.m. Thursday ET). Public broadcaster NHK, citing the local fire department, reported that Abe was in a state of cardio and pulmonary arrest, suggesting that his heart had stopped.
It said he had been admitted to Nara Medical University Hospital. Officials said that one person had been apprehended in relation to the shooting.
Nobuo Kishi, the Japanese defense minister and Abe's younger brother, said doctors were "making every effort to provide life-saving treatment, including blood transfusions."
He called the shooting an "attack on democracy."
Speaking from his office in Tokyo, a visibly shaken Kishida said that while the attack was still being investigated, "it was a despicable and barbaric act that took place in the midst of an election, which is the foundation of democracy."
"I condemn it in the harshest possible terms," he told a hastily arranged news conference after returning from campaigning in the country's north.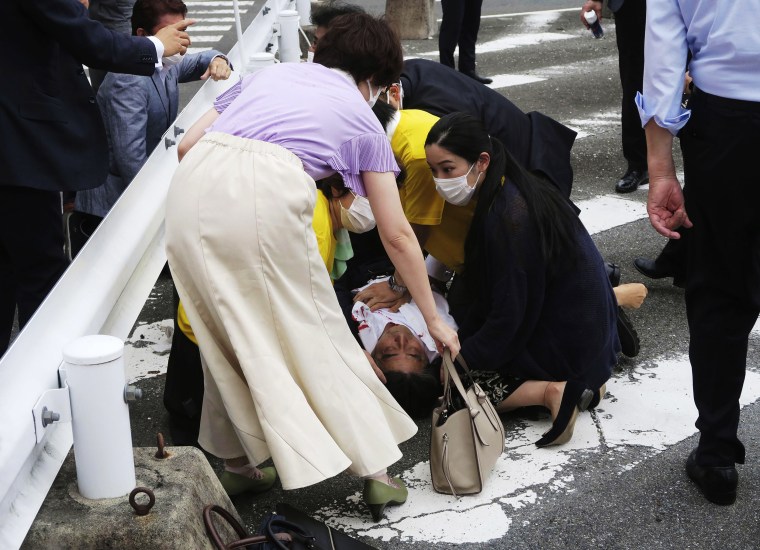 Kishida said no decisions had been made as to how the shooting would affect elections for the upper house of the Japanese Parliament, which are scheduled for Sunday. Abe, 67, who stepped down in 2020, was campaigning for other members of the governing conservative Liberal Democratic Party (LDP) but is not a candidate himself.
Abe dominated Japanese politics for the best part of a decade and has remained politically active since his resignation, leading the biggest faction in his party.
The incident sent shockwaves through Japan, where gun violence is extremely rare. Handguns are banned in the country and people must undergo extensive tests, training and background checks to obtain and keep shotguns and air rifles.
Iwao Horii, an LDP member of the upper house representing Nara, was standing next to Abe when the former prime minister was shot. "We heard two loud sounds while he was talking and he fell immediately after that," Horii said at a news conference. He added that Abe was unresponsive when emergency medics tried to resuscitate him.
"This is something that shakes the very foundations of democracy and cannot be forgiven," he said. "At this point we are all praying for the quick recovery of former Prime Minister Abe."
The shooting was also condemned by the country's ma
Cavell added: "A similar situation is occurring towards Bakhmut with Russia making slow gains against heavy resistance, but slowly securing more of the highway to Lysychansk and closing in on Bakhmut defences."
The Institute for the Study of War said: "Russian forces still conducted limited ground offensives and air, artillery, and missile strikes across all axes on July 7, and will likely continue to confine themselves to small-scale offensive actions as they rebuild forces and set conditions for a more significant offensive."
Besides trying to push west from the Luhansk border, the Russians have sustained artillery fire on settlements north of Sloviansk, with the Ukrainian General Staff that saying "our defenders inflicted losses on the enemy during its next offensive attempt and pushed the invaders back near Bohorodychne," some 20 kilometers north of the city.
Serhiy Hayday, head of Luhansk region military administration, said "in order to reach the administrative border of Luhansk region, the Russians are destroying the surrounding villages with artillery….they do not stop firing from all types of heavy weapons " on the few villages not already under their control.
"But our armed forces hold the fort," Hayday said, indicating that resistance continues along the regional border.
Elsewhere, the Ukrainian General Staff reported further artillery attacks against settlements north of Kharkiv, and local authorities said there had been civilian casualties in a rocket attack on the eastern outskirts of the city.
Regional military administrations reported incoming fire in both Sumy, in the north, and against Kryvyi Rih, in the south, without causing casualties.
Also in the south, Russian forces continue to shell areas of Kherson and Mykolaiv in an effort to retrieve recently lost territory, according to regional administrations, and several villages were on "the verge of destruction."
The Cavell Group assessed that "north of Kherson there were phases of intensive artillery shelling yesterday [Thursday], but no significant changes on the ground. Around Kherson City Ukrainian [forces] fired coordinated artillery onto some Russian fortified defensive positions."